---
Saturday, August 31, 2019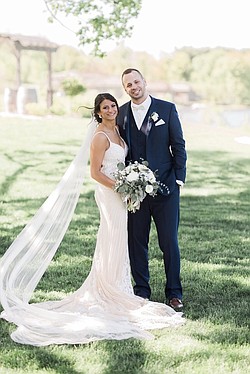 Photo
Lindsey Tokarsky, Anthony Marsico
YOUNGSTOWN
Monsignor Peter Polando heard the exchange of vows between Lindsey Tokarsky and Anthony Marsico during a 1 p.m. May 11 wedding ceremony at St. Columba Cathedral in Youngstown.
After accepting congratulations at a reception at The Vineyards at Pine Lake in Columbiana, the couple honeymooned in St. Lucia and reside in Poland.
The bride is a daughter of Jeff and Sherry Tokarsky of Boardman. Parents of the groom are Martin Marsico of Cape Coral, Fla., and Nita Marsico of Poland.
Kelsey Marion was matron of honor, and Emma Tokarsky, the bride's sister, was maid of honor. Lindsey Marsico, the groom's sister; Wendy Marsico, sister-in-law of the groom; Lauren Markovich, cousin of the bride; Jenna Modelski, cousin of the groom; Bryana Flak; and Sarah Lukehart were bridesmaids.
The attendants wore tan with green and white floral dresses.
Mia Marsico, the groom's niece, was flower girl.
The groom's brother, Rick Marsico, served as best man. Groomsmen were Christopher Tokarsky, brother of the bride; Michael Marion, brother-in-law of the bride; Michael Muntean, the groom's brother-in-law; Daniel Markovich, the bride's cousin; Chris Juchno; and Andrew King.
Rick Marsico and Dylan and Cooper Modelski, all nephews of the groom, were ring bearers.
Mrs. Marsico graduated from Youngstown State University with a bachelor's degree. She is an account executive for Toshiba in New Castle, Pa.
Mr. Marsico earned a bachelor's degree from YSU and is a regional sales manager for Commercial Metal Forming in Youngstown.