---
Saturday, August 24, 2019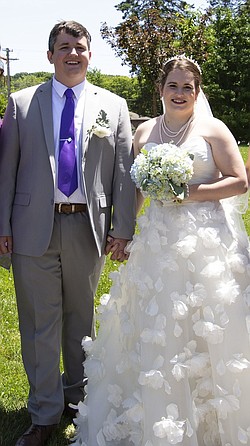 Photo
Olivia Withers, Austin Miller
NEW CASTLE, PA.
The Rev. David Wyant heard the exchange of vows between Olivia Withers and Austin Miller during a wedding ceremony at 12:30 p.m. June 22 at Cascade Park in New Castle, Pa., where a reception also took place.
After the couple honeymooned in Cape May, N.J., they reside in Petersburg.
Howard M. and Tricia L. Withers of Petersburg are the bride's parents.
The groom is the son of Jefferson D. and Paula J. Miller of Youngsville, Pa.
A tulle ballgown adorned with fabric flowers throughout the full skirt was worn by the bride.
Ariana O'Donnell was maid of honor. Ivy and Ruby Withers, the bride's sisters, and Marissa Roberto were bridesmaids. The attendants wore purple dresses.
Eric Davis served as best man. Groomsmen were Chris Mazur, Bryan Maynard and Chris Caroff.
Mrs. Miller graduated from Westminster College with a bachelor's degree in public relations. She is the marketing director at King's Jewelry in New Castle.
Her husband attended WC and is a personal banker at PNC Bank in New Castle.