---
Saturday, August 24, 2019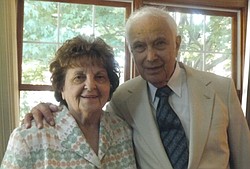 Photo
MCDONALD
Reginald and Mary Melia of McDonald will be honored for their 70th wedding anniversary with family and friends. The couple also plan to celebrate by traveling to Laughlin, Nev.
The couple's daughter is Debra (Gene) McCalpin, also of McDonald. Their granddaughter, Maria Carkido, and great-grandchildren, Navaeha and Gionni Carkido, complete the family.
Mr. Melia married the former Mary Ann DiStephano on Sept. 5, 1949, at Our Lady of Mount Carmel Church in Youngstown.
Mrs. Melia is a homemaker. Her husband worked in the rolling mill at U.S. Steel Corp. until he retired in 1980.
The couple are members of St. Dominic Church in Youngstown, where Mr. Melia has served as an usher for 60 years.