---
Saturday, August 24, 2019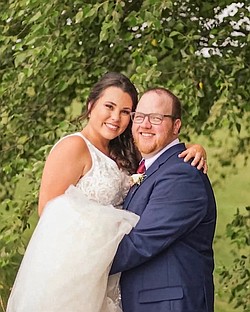 Photo
Carly Hammond, John Neher
COLUMBIANA
Carly Hammond and John Neher were united in marriage at 3:30 p.m. July 6 at The Links at Firestone Farms in Columbiana, and a reception followed. The Rev. Jack Acri officiated.
The couple's parents are William and Judy Hammond of Diamond, and Robert and Shirley Neher of North Jackson.
After honeymooning in Charleston, S.C., the couple reside in Poland.
The bride wore an A-line empire waist boho-style gown accented with linear details and bold lace. The skirt was enhanced with lace appliques, and the back was adorned with a keyhole design of sheer lace.
Melina Millerleile was the matron of honor, and Megan Cote was maid of honor. Bridesmaids, wearing burgundy dresses, were Kirstin Simon and Lea Ellis, the bride's cousin.
The groom's brother, Allan Neher, served as best man, and Nick Klacik, cousin of the groom, and Chad Hammond, brother of the bride, were groomsmen.
Mrs. Neher earned a bachelor's degree in education from Youngstown State University. She is an intervention specialist at Austintown Local Schools.
Mr. Neher is attending Community College of Beaver County and works as a line-service technician at Atlantic Aviation in Pittsburgh.