---
Saturday, August 17, 2019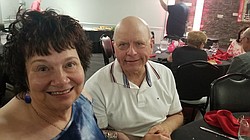 Photo
Richard and Judith Rococi
AUSTINTOWN
Richard and Judith Rococi of Austintown were honored Aug. 16 at a dinner at Nicolinni's Restaurant in Boardman in celebration of their golden wedding anniversary.
Hosts for the event were the couple's children, Richard (Nicole) Rococi of Austintown and Jill (Michael Sekol) Rococi of Struthers.
Mr. Rococi and the former Judith Goldich were married Aug. 16, 1969, at St. Matthias Church in Youngstown.
Mrs. Rococi was a teacher for the Diocese of Youngstown until retiring in 2006.
Her husband worked as a pharmacist for Rite Aid in Conneaut. He retired in 2015.
The couple are members of St. Michael Church in Canfield. They will further celebrate their anniversary on a Caribbean cruise.