---
Saturday, August 17, 2019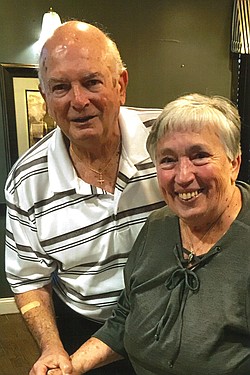 Photo
Raymond and Dorothy Procick
YOUNGSTOWN
Raymond and Dorothy Procick of Youngstown were the guests of honor recently at a gathering hosted by their family at Davidson's Restaurant on the occasion of their 60th wedding anniversary.
The couple are the parents of Renee (Jim) Williams of Youngstown; Annette Armeni, also of Youngstown; and Lisa (Joe) Diana of Cincinnati. Seven grandchildren and seven great-grandchildren complete their family.
The former Dorothy Ferraro became the bride of Mr. Procick on Aug. 1, 1959, at St. Anne Church in Youngstown.
Mrs. Procick was a secretary at St. Anthony and St. Brendan schools before retiring in 2005. She also belongs to bowling and card clubs.
Her husband was employed in central kitchen maintenance by the Youngstown Board of Education until retiring in 1995. He is a member of the Holy Name Golf Team.
The couple are members of St. Anthony of Padua Church in Youngstown.