---
Saturday, August 17, 2019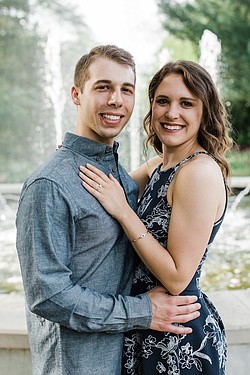 Photo
Gregory Ferenchak, Jessica Bodamer
BOARDMAN
Curtis and Kathleen Bodamer and Martha Ferenchak, all of Boardman, are announcing the engagement of their children, Jessica Bodamer and Gregory Ferenchak, both of Pittsburgh.
The prospective groom also is a son of the late Jeffrey Ferenchak.
The couple will be united in marriage at 2 p.m. Oct. 12 at St. Columba Cathedral in Youngstown. A reception will take place at The Lake Club in Poland. Invitations will be issued for both events.
Dr. Bodamer graduated from Ohio State University with a doctor of optometry degree. She is an optometrist in Latrobe, Pa.
Dr. Ferenchak earned a doctor of medicine degree from Northeast Ohio Medical University and is a family-medicine resident at Forbes Hospital in Monroeville, Pa.