---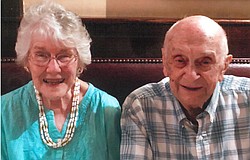 Photo
POLAND
Russell and Agnes Blake of Poland recently celebrated their 75th wedding anniversary during a dinner with their family at Springfield Grille in Boardman.
The couple's children are James (Libby) Blake of North Canton and David Blake of Alpharetta, Ga. Four grandchildren and five great-grandchildren complete the family.
Mr. Blake and the former Agnes Richmond were married June 23, 1944, at her parent's home in Lonaconing, Md.
Mrs. Blake worked for Springfield Local Schools and Jackson Milton Schools as a home-economics teacher and was a self-employed piano teacher. She retired from school teaching in 1973 and piano teaching in 1998. She is a member of Quest Club in Poland.
Mr. Blake worked as a claims manager for Nationwide Insurance Co. in Youngstown from 1950-67 and as a self-employed insurance salesman in Poland before retiring in 1989. He is a former member of the Kiwanis. He is a member of the Masonic Lodge and is the president of Poland Boosters. He also served as mayor of Poland from 1967-1980 and on its village council from 1956-1976. He served in the U.S. Army during World War II.
The Blakes are members of Poland United Methodist Church.