---
Saturday, December 8, 2018
RELATED: Press conference video calling for Trump's help
SEE ALSO: Elon Musk mulls potential purchases of idled GM plants
YOUNGSTOWN
Ryan letter to Trump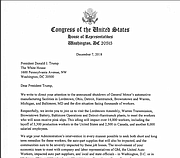 Document
U.S. Rep Tim Ryan of Howland urges President Trump to visit Lordstown.
U.S. Rep. Tim Ryan of Howland, D-13th, and four elected officials from Ohio and Michigan formally invited President Donald J. Trump to visit communities impacted by the idling of General Motors North American plants, including the Lordstown Assembly complex.
The letter was also signed by Rep. Marcy Kaptur of Ohio, D-9th; Rep. Joyce Beatty of Ohio, D-3rd; Rep. Debbie Dingell of Mich, D-12th; and Rep.-elect Andy Levin of Mich. D-9th.
GM plans to idle plants in Ohio, Michigan and Maryland in March. The Lordstown plant makes the Chevrolet Cruze. GM plans to discontinue the Cruze, Chevrolet Volt and Chevrolet Impala.
The members asked the president to personally meet the workers who will lose their jobs as a result of the GM decision.
"Respectfully, we invite you to join us to visit the Lordstown Assembly, Warren Transmission, Browns-town Battery, Baltimore Operations and Detroit-Hamtramck plants, to meet the workers who will soon receive pink slips. This idling will impact over 14,000 workers, including the layoff of 3,300 production workers in the United States and 2,500 in Canada, and another 8,000 salaried employees," the representatives wrote.
The letter calls on the president to use any methods at his disposal to address the looming closures.
"We urge your Administration's intervention in every manner possible to seek both short and long term remedies for these workers, the auto-part supplies that will also be impacted, and the communities sure to be severely impacted by these job losses," the representatives wrote.
In addition to the calls for a personal visit and intervention, the representatives also called on Trump to fulfill promises he made during his campaign and subsequent rallies.
"Our communities need deliverance on your promises to invest in and restore America's manufacturing might and to put an end to the outsourcing of American jobs. We will work with you and your Administration to reinvest and modernize American auto manufacturing. Thank you for review of this urgent request," the letter read.
Ryan, U.S. Rep. Bill Johnson of Marietta, R-6th, and U.S. Sens. Sherrod Brown, D, and Rob Portman, R, met Wednesday with Mary Barra, GM's CEO, in Washington, to try to convince GM to find a new product to keep the Lordstown plant open.
Barra, who also met with elected officials from Michigan and Maryland, said the meetings were "constructive," but she gave no hint the automaker would reverse the decision it made Nov. 26 to idle the plants.