---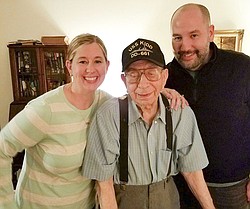 Photo
SPECIAL TO THE VINDICATOR: George Strom, center, celebrated his 100th birthday Jan. 18. On the left is his granddaughter, Jessica Jones of Orlando, Fla., and on the right is his grandson, Mathew Strom of Chicago.
HONOREE
Residence: Boardman
Date of birth: Jan. 18, 1917, in Boardman
FAMILY
Parents: Oliver and Blanch Strom, deceased
Siblings: Harriet, deceased
Spouse: Virginia, whom he married Aug. 2, 1947, is deceased.
Children: Reed and David Strom, both of Boardman
Grandchildren: 2
Great-grandchildren: 3
BACKGROUND
Education: Youngstown Business College
Employment: District manager for Bearings, Inc.
Memberships: Bethlehem Lutheran Church
Military service: Four years in the U.S. Navy aboard the U.S.S. Kidd in the Pacific Theater during WW II
CELEBRATIONS
Date and location: Celebrated at his home with children, grandchildren and great-grandchildren