---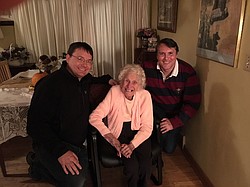 Photo
SPECIAL TO THE VINDICATOR Frances Ritz, who will be 100 years old Jan. 10, is seated with her grandsons, Bjorn, left, and Eric.
HAPPY 100TH BIRTHDAY
Frances Jean Ritz
HONOREE
Residence: Hampton Woods, Poland
Date of birth: Jan. 10, 1917, in Youngstown
FAMILY
Parents: Ignatius and Anna Palchefsky
Siblings: Three brothers, Dr. John Allen, Nicholas Pahl and Michael Palchefsky, are deceased.
Spouse: Steve Ritz, whom she married in 1944 in Oklahoma, died in 1980. He was a Youngstown Vindicator crime reporter.
Children: Barbara (Tom) Louchard
Grandchildren: Eric and Bjorn
BACKGROUND
Education: Valedictorian of East High School in 1935, she received a bachelor's degree in business education from Youngstown State University and a master's degree from Kent State University
Employment: She taught for 48 years, including 32 years at Boardman High School, where she helped hundreds of students find office jobs in a variety of careers. She retired in 1991. She coached a girls basketball team in Attica, Ohio, that made it to state finals.
Memberships: Delta Kappa Gamma, American Association of University Women, was treasurer of both Friends of Boardman and Friends of Poland libraries, and was a member of East Ohio Lapidary Club. She spoke to various groups including Rotary, Kiwanis and Chamber of Commerce, to ask for assistance in hiring her students, and she recognized employers who hired her students at a bosses appreciation banquet for 25 years.
ADDITIONAL INTERESTS
Other information/lifestyle: She received an award for excellence from Ohio State Vocational Department for promoting employment possibilities for high school students, Outstanding Business Teacher of the Year in Mahoning and Trumbull counties and was a 2001 recipient of the YWCA Woman of the Year in business education. She traveled to Russia, Siberia and Czechoslovakia three times with Slippery Rock University Studies program and also took Caribbean cruises and trips to Alaska and Hawaii. She received the Golden Eaglet award in 1935, Girl Scouts' highest honor. In her youth she volunteered at the Pearl Street Community Center, Christ Mission Youth and was a lifeguard at one of the city's pools.
CELEBRATIONS
Date and location: Birthday gala will take place Saturday at Hampton Woods Mahogany Room in Poland, hosted by her family. It will have a 1940s theme.