Brier Hill Fest brings pride, family, tradition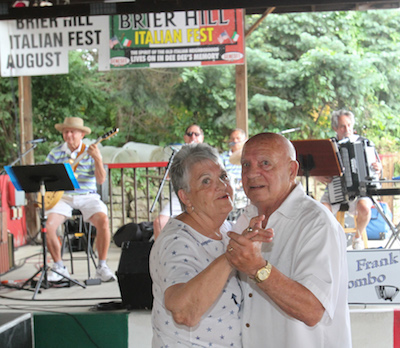 ---
YOUNGSTOWN
The Brier Hill Italian Festival is back for its 26th year.
The neighborhood festival was well underway at 6:30 Thursday evening, with music from the Jim Frank Combo band kicking it off.
Despite the ominous clouds hanging over the Valley, scores of people were lined up at food vendors and occupying rows of tables set up for the weekend festivities.
The festival, which is free and open to the public, runs through Sunday at the corner of Calvin and Victoria streets in the Brier Hill neighborhood on Youngstown's North Side.
Billing itself as the longest continuously running Italian festival in Youngstown – the Greater Youngstown Italian Festival technically has run longer, but took place at the Canfield Fairgrounds for several years – the annual Brier Hill fest has become a holiday for many individuals with familial roots in the neighborhood.
Brier Hill was the site of the first of Youngstown's Italian immigrant communities, and the festival – started by Dominic "Dee Dee" Modarelli, Joey Naples, Neil Buzzacco and Claire Maluso – was created as a celebration of the families and culture that shaped and were shaped by the neighborhood.
Though Modarelli died in 2009 at age 77, his children – Gene, Dina and Frank – have continued to work and run the festival to honor their father and the neighborhood he loved.
"The festival is his dream. It's his dream come true," Gene Modarelli said of his father. "He did it as a way to bring back the families from the old neighborhood and celebrate with them."
Between 20,000 and 30,000 people are expected to visit the festival over the course of its four-day run, according to Gene Modarelli.
The Modarelli kids – and their kids – were busy working the festival Thursday night. Frank, Gene and Dina prepared glasses of the festival's signature drink, wine and peaches, and ensured everyone eating and drinking under the ITAM Post 12 pavilion was cared for.
Generational pride and tradition permeate the festival, from the Modarelli kids down to the vendors.
Just outside the ITAM Club Post 12 bar across Victoria Street from the pavilion, Anthony Pesce of Bracciole Brothers prepared bracciole on a bun for a customer – something he and his brothers have done for 20 years at the Brier Hill festival.
"Back then, we just had a grill and a table," Pesce said. "We come back every year, really in honor of our father. He can't really get out and do this anymore. It's like a big family reunion out here for all of us."
Reunion is the core of the Brier Hill Italian Festival, and it is that neighborly familiarity that transcends time and distance – some festivalgoers come from as far as California and Washington to return to the old neighborhood – that keeps bringing people back to the annual event.
More like this from vindyarchives.com