Boardman kindergartners hunt for Easter eggs in Boardman Park
Boardman Easter Egg Hunt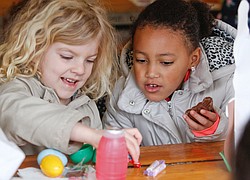 Gallery
BOARDMAN
Christian Slevin, a kindergarten student at Robinwood Lane, smiled as he cracked open the brightly-colored plastic.
He had picked up the treasure – a candy-filled Easter egg – on Boardman Park's Tot's Town playground. On Wednesday, the playground was dotted with eggs that kids scooped up within minutes.
"This is tailor-made for them," said George Basista, the Kiwanis Club of Boardman member who organized the hunt.
Kindergarten students from Boardman's four elementary schools were bused to the park for the annual event, now in its 67th year. In all, nearly 300 students participated in two different sessions on Wednesday.
Basista recalled the longtime tradition of hand-dying hard-boiled eggs for the hunt. Now, the Kiwanis Club fills plastic eggs with candy – which the kids certainly didn't seem to mind.
Ayden Johnson, a student at Robinwood Lane, was at a loss for words as he bit into a Giannios chocolate bunny.
The Easter Egg Hunt was "good," he said.
Charlie Arnaut, a Stadium Drive Elementary student, grinned from ear to ear as she sorted through her pile of candy.
She, too, agreed that the hunt was "good." For the occasion, she wore bunny ears.
The Kiwanis Club was assisted by others in the Boardman community. Boardman High School's Home Economics classes stuffed more than 1,300 eggs with candy, and high- school Key Club members helped out at the event by making sure that each and every student found eggs during the hunt.
"Bye bye, bunny!" the kids called out to the event's Easter bunny as they left the park.
"See you next year!"
More like this from vindyarchives.com