---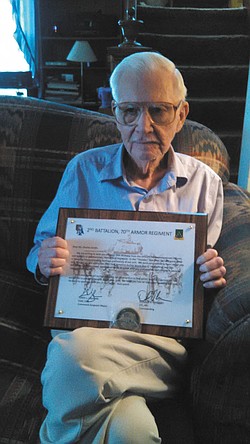 Photo
Birthdate: March 19, 1926, in Roscoe, Pa., a son of the late Michael and Claudine Smith
Siblings: Three sisters, four brothers. One sister and three brothers are deceased.
Wife: Married Maryann McCay on Sept. 12, 1953. She is deceased.
Children: Michael Smith, Keith Smith and Barbara Smith, all of Girard, and Charles Smith Jr. of Medina
Grandchildren: Seven
Great-grandchildren: 11
Residence: A long-time resident of Girard
Celebration: A party took place recently with friends and family at Church Hill United Methodist Church
Career: Was a photographer and magician.
Military service: Served with the 70th Tank Battalion during World War II.
Special recognition: In observance of his birthday, he was given a coin and plaque from the 2nd Battalion, 70th Armor Regiment based in Fort Riley, Kan.