---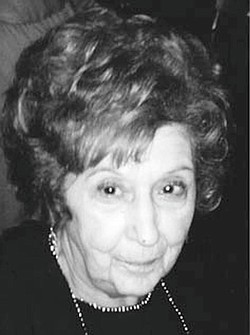 Photo
Residence: Austintown
Date of birth: Aug. 10, 1926, in New Castle, Pa.
FAMILY
Parents: Joseph and Mary Alfreda
Siblings: Teresa, Nick, Kathryn, Lena, Jennie and Phyllis, are all deceased.
Spouse: She married Philip Leone on May 17, 1952, at St. Vitus Church in New Castle, Pa.
Children: Philip A. Leone of Canfield; Gary Leone of Fort Myers, Fla.; and Mark Leone of Boardman.
Grandchildren: Lisa, Philip, Gina, Mark and Allison.
Great-grandchildren: Mia and Eva.
BACKGROUND
Education: Graduate of New Castle High School.
Church membership: St. Christine Church, Youngstown.
ADDITIONAL INTERESTS
Other information/lifestyle: She enjoys cooking for her family and friends, and watching Cleveland Indians games.
CELEBRATIONS
Date and location: An Aug. 13 dinner at Cafe Capri Restaurant was hosted by her sons and attended by family and friends.