Published: Wed, March 4, 2015 @ 12:00 a.m.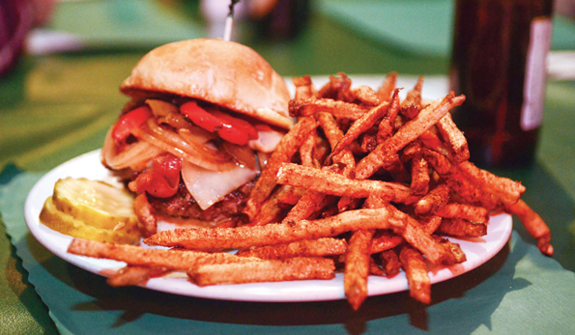 Photo
The Cowboy Burger featuring bacon, pepper jack cheese, barbecue sauce and an onion ring is sold for $4.95. Add a side of fries for $2 or chips for $1 at Dickey's.
If You Go...
Where: Dickey's
Address: 27 N. Meridian Road, Youngstown
Phone: 330-799-0058
Hours: Sunday, closed; Monday, 11 a.m. to 9 p.m.; Tuesday through Friday, 11 a.m. to 11 p.m.; and Saturday, 11 a.m. to 9 p.m.
Menu: 17 burgers and a build-your-own ($4.50 to $4.95); sides extra
By Anthony M. Fuda
Psst. Come here. I have something to tell you. It's about Dickey's. The regulars say this place is "the best kept secret in Youngstown."
After 32 years in Youngstown, Dickey's secret won't be secret for long, because these burgers are worth letting everyone in on it.
We were informed about these burgers by a few of those regulars, and we are glad they attracted our attention.
This is a nice bar centering around the local patrons — and it seemed like everyone really did know each other. Jaime Anderson-Sayers, who does a little bit of everything for the bar, was seen greeting patrons and talking with them in a way that was like catching up with an old friend, while tending bar, taking orders and making sure the bar was stocked.
The same could be said about manager Cindy Zimmerman and our waitress Becky Gougler.
After making our way through the crowd, we found seating to accommodate our little gang, plus Burger of the Month Winner Susan Nutter, and her husband, Scott.
We were pleasantly surprised to find 17 six-ounce burgers and a build-your-own burger on the menu, making our choices endless — which we always like when looking over an eatery's burger menu.
Some of the choices are Cowboy (bacon, pepper jack cheese, barbecue sauce, onion ring), South of the Border (jalapenos, salsa, cheddar cheese), P.O.P. (grilled pepper & onions, provolone cheese), Lucy (grilled Hungarian hot peppers, provolone cheese), Bacon Cheeseburger (bacon and your choice of cheese), Cordon Blue (ham, Swiss cheese), and the Sloppy Dickey (sloppy joe sauce, onion, choice of cheese).
Jaime says: "What makes our burgers so good is that we make them the way you should. Every burger is fresh, hand rolled using ground chuck, perfectly seasoned and cooked to order."
You can platter any burger with fries for $2 or chips for $1. The fries are a nice fair cut; crispy, plentiful and a great addition to these high-quality burgers.
After debating what everyone wanted, we settled on our choices and patiently waited for our feast to begin.
I chose the South of the Border and enjoyed the blend of salsa, jalapenos and cheddar cheese. I am a big fan of nachos, and this just ups that ante. Put a spicy jalapeno in salsa on a gently seasoned burger, and nestle it between two toasted buns — and I can keep going back for more and more. The flavors complemented each other perfectly and satisfied my appetite.
Susan said: "Thank you to the BurgerGuyz for a great time at Dickey's. What fun to win two free burger platters! I ordered the P.O.P Burger with peppers, onions and provolone cheese, and it was delicious. My husband chose the Jalapeno Burger topped with that spicy pepper and pepper jack cheese.
"We both agreed the burgers were very good, and we appreciated the toasted bun that held up to the very last bite. We also both chose to eat the burgers as served and did not add ketchup, mustard, etc. and we were not disappointed.
"The only comment or addition for my P.O.P. burger would be to possibly offer a side of sour cream as an optional topping. We also liked that the burgers were not overly large so the burger-to-topping-to-bun ratio was spot on. And Dickey's fries were just how we like them. They held their shape with some being crispy and some being chewy. If we are ever in the area again, Dickey's would be a perfect choice."
Eric zeroed in on the burger with the most heat, saying: "While looking over the impressive burger menu, my eyes were drawn to the Lucy Burger, or more specifically, the grilled Hungarian hot peppers that it was topped with.
"Without missing out on a chance to return to the heat I so enjoy I made sure to request adding jalapeno peppers. With the already included provolone cheese I knew I was in for a treat. I found the beef to have a great seasoned taste. Having a grilled bun is a nice variant that you don't see as often as I would like.
"When it came to the star of the show, the hot pepper, I was not let down. It really made an impact on the taste buds by having just the right heat-to-flavor ratio that I was still able to taste everything the burger had to offer yet feel the sweat accumulating on my brow."
Chiz remarked: "I had the Cowboy burger, adding jalapenos. This bad boy consisted of bacon, pepper jack, barbecue sauce and an onion ring with what I estimated to be a 6-ounce burger patty. The flavor was all there. The meat was seasoned just right, and reminded me of something my grandma used to cook me. My favorite part was the butter-grilled bun. ... Oh my! I guess you have to be doing everything right to survive 32 years. The service was top notch, and we all had a great time. I want to give a big thank you to everyone involved for rocking my world with another great burger."
Knuckles arrived a little late because he watched a marathon of "Its always Sunny in Philadelphia," so he was feeling a bit nostalgic.
He said: "Wanting something like a Philly Cheese steak, but Knuckle-fied, I ordered a Bacon Cheeseburger and added grilled peppers, onions, mushrooms. When the waitress pitched my perfectly cooked-medium rare burger and mound of fries I was reminded that 60 feet 6 inches is the distance from the pitcher's mound. I was hoping that Dickey's delivered the perfect burger to be knocked out of the park."
"While I expected the standard fast ball down the middle, I was pleasantly surprised by Dickey's curve ball when I bit into the juicy burger. The flavors of the added toppings and fresh beef was like watching a player stealing home on a squeeze play, sliding into home plate to win the game, which Dickey's did on this burger!"
JT said: "I thoroughly enjoyed my Bacon Cheeseburger. The bacon was thick-cut and done right — crisp! A very good burger at a price that is taunting me to come back soon, and often. And these things (the deep fried pepper-jack cheese cubes) are just plain addictive!"
Now that the secret is out, when you're driving down Meridian in Youngstown and you see the yellow and green Dickey's sign, stop in, have a delicious burger, and you might become a regular with "Youngstown's best kept secret."
We're very grateful to our two Free Burger Platters contest winner, Susan Nutter, and her husband, Scott, for assisting us with our review of Dickey's. Susan became our monthly contest winner when her email entry was chosen randomly. Check the Valley Food page weekly for the next chance to win.