---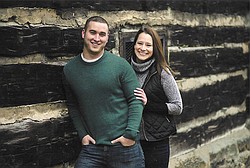 Photo
WILLIAM WOLFGANG AND MARYELIZABETH CRAWFORD
Larry and Evie (Kun) Crawford of Howland and William and Cathy (Atherton) Wolfgang of Beloit are announcing the engagement and upcoming nuptials of their children, MaryElizabeth Crawford and William R. Wolfgang Jr., both of Columbus.
The couple will exchange vows at 4:30 p.m. Oct. 3 at the Lake Club in Poland, where a reception will immediately follow. Invitations will be issued.
The bride-elect earned a bachelor's degree in middle childhood education from Mount Union College and a master's degree in school counseling from Youngstown State University.
She is a school counselor in the Westerville City School District in Westerville, Ohio.
The prospective groom received a bachelor's degree in civil engineering from Ohio Northern University.
He is a project engineer and licensed professional engineer for Kokosing Industrial Inc. in Westerville.