---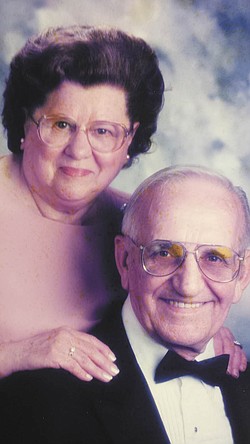 Photo
Mr. and Mrs. John Mikacinich
GIRARD
Mr. and Mrs. John Mikacinich of Girard celebrated their 70th wedding anniversary with friends and family on July 11.
Mr. Mikacinich and the former Anne Ancik were married July 14, 1945, at Our Lady of Perpetual Help Mission in McDonald.
Mr. Mikacininch served with the U.S. Army 69th Division Infantry during World War II. He retired after 38 years with U.S. Steel Corp's McDonald Works and Ohio Works, where he was employed in management in the machine shop. Later, he was a substitute machine shop instructor at Gordon D. James Career Center in Lordstown and Trumbull County Joint Vocational School in Warren.
Mrs. Mikacinich was employed on the nursing staff at St. Elizabeth Hospital in Youngstown.
The couple are members of St. Rose Church and were members in Elks Lodge 295 and Warren Emblem Club, where Mr. Mikacinich served as exalted ruler and Mrs. Mikacinich was a former president.