Indictments tied to Oakhill Renaissance Place case
Tweet
Published: Thu, May 15, 2014 @ 12:01 a.m.
Mayor,Auditor, and Attorney Indicted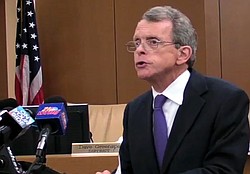 Video
Ohio Attorney General Mike DeWine and Cuyahoga County Prosecutor Timothy McGinty announced a 83-count indictment against Youngstown Mayor John McNally, Mahoning County Auditor Michael Sciortino, and Youngstown Attorney Marty Yavorcik in Cleveland Wednesday afternoon
McNally, Sciortino, Yavorcik indictment

Document
73-count indictment against Youngstown Mayor John A. McNally, Mahoning County Auditor Michael Sciortino and Youngstown attorney Marty Yavorcik.
CLEVELAND
After reading off 83 criminal counts in an indictment charging Youngstown Mayor John A. McNally, Mahoning County Auditor Michael Sciortino and attorney Martin Yavorcik with engaging in a pattern of corrupt activity, conspiracy, bribery, perjury and money laundering, Attorney General Mike DeWine said: "We are not done."
Based on the information provided in a 67-page indictment released Wednesday after a Cuyahoga County grand jury investigation, there are a number of people — most of them not named, but descriptions that make some not difficult to identify — who could be next.
"The case is still under investigation," DeWine said. "Whether there will be additional charges, I simply cannot tell you at this moment."
DeWine and Cuyahoga County Prosecutor Timothy McGinty announced the results of the grand-jury investigation into Mahoning County political corruption. The indictments came as a surprise — even to McNally and Sciortino, who learned they were targets of the criminal investigation and were to be indicted from a Vindicator reporter about 10:30 a.m., almost four hours before the official announcement. The impending indictments were first reported on Vindy.com, the newspaper's website.
McNally and Sciortino, both Democrats, said neither they nor their attorneys were contacted by the attorney general's office about the existence of a grand jury and criminal investigation.
Neither has any intention of resigning.
McNally is accused in the indictment of wrongdoing as a county commissioner and not in his current job as Youngstown mayor so that state law doesn't apply to him, DeWine said.
When asked if he should have been contacted by prosecutors, McNally said before the indictment, "You would think that would be nice, but nothing surprises me anymore."
DeWine said he was under no obligation to inform those charged that they were being investigated.
Most of the charges are related to those who opposed the county's purchase of the former Forum Health Southside Medical Center, now called Oakhill Renaissance Place. The others are related to illegal campaign contributions.
The felony charges reportedly committed by McNally are one count of engaging in a pattern of corrupt activity, two counts of conspiracy, two counts of bribery, six counts of tampering with records, nine counts of perjury, one count of money laundering, two of telecommunications fraud, two counts of theft in office and nine misdemeanors.
Sciortino faces 16 felony counts — one of engaging in pattern of corrupt activity, two of conspiracy, two bribery, four tampering with records, six perjury, one money laundering; and six misdemeanors.
Yavorcik's counts are all felonies: one count of engaging in a pattern of corrupt activity, two conspiracy, three bribery, 17 tampering with records and four money laundering.
A Mahoning County grand jury in 2010 indicted five people — ãincluding McNally and Sciortino — ã and three companies — the Cafaro Co. and two subsidiaries — with conspiring to impede the move of the county Department of Job and Family Services from the Garland Plaza to Oakhill.
Also indicted in 2010 were former county Treasurer John B. Reardon, former Cafaro Co. President Anthony M. Cafaro Sr., and John Zachariah, the former JFS director.
Yavorcik and Flora Cafaro, then a part owner of the Cafaro Co., were not charged in the conspiracy, but were indicted for money laundering pertaining to a purportedly concealed $15,000 payment she made to Yavorcik during his failed 2008 campaign for county prosecutor.
But special prosecutors from Lorain County and the Ohio Ethics Commission asked a visiting judge to dismiss the case because of their inability to obtain tape recordings from the FBI and provide them to the defense making it impossible to proceed. The judge dismissed that 73-count indictment in July 2011 without prejudice, meaning the charges could be re-filed later.
Among the 28 people and businesses listed by name in the latest indictment Wednesday as being part of a purported criminal enterprise are Zachariah; Richard Goldberg, a felon and former attorney; and Lisa Antonini, a former county treasurer and county
Democratic Party chairwoman convicted of taking an unreported $3,000 campaign contribution. She is cooperating with law enforcement investigating political corruption in the county and has said in the past that Sciortino and Yavorcik were her closest friends.
DeWine declined to say if Antonini provided information helpful to this investigation.
Based on information in the first Oakhill indictment, other criminal documents, and descriptions in Wednesday's indictment, "Businessman 1" likely is Anthony M. Cafaro Sr. and "Businesswoman 1" likely is Flora Cafaro.
The indictment alleges that Businessman 1 "provided a benefit" to Yavorcik so if he was elected prosecutor the investigations against the businessman and his allies would be stopped.
There are also eight attorneys and two law firms, none listed by name, who prosecutors say were part of the purported criminal enterprise.
Most of the purported criminal activity in Wednesday's indictment occurred between January 2005 and July 2009, though it stretches to Jan. 31 of this year, primarily because of what prosecutors said was false campaign finance reports.
There were a number of federal officials, including U.S. marshals and at least one FBI agent, at Wednesday's press conference in the Cuyahoga County justice center. While federal authorities conducted an investigation into Oakhill, the charges filed Wednesday were by the state.
DeWine declined to discuss if there was any federal involvement in this investigation.
After the announcement, DeWine told The Vindicator that there are some similarities between this investigation and the one from four years ago.
But "we took a fresh look at it; an independent look at it," he said.
A Cuyahoga County judge will be selected shortly to oversee this case.
The indictment said the purported criminal activities occurred in Mahoning, Cuyahoga, Trumbull, Geauga and Franklin counties.
Most of it appears to have happened in Mahoning, but without giving an explanation, DeWine and McGinty said the prosecution would be in Cuyahoga County.
McGinty appointed De-Wine and three of his assistants as special prosecutors for this case. Daniel Kasaris, a senior assistant attorney general who successfully prosecuted former Mahoning County Probate Court Judge Mark Belinky's case that ended last week with a guilty pleas to tampering with records, will be the lead prosecutor on this new case.
Lewis R. Katz, a law professor at Case Western Reserve University in Cleveland, said having the case in Cuyahoga County is likely a strategy to help get convictions.
Prosecutors "might be concerned [the defendants] are too popular in Mahoning County while they are unknown quantities in Cleveland without any preconceived opinions by jurors," he said.
"When will the voters of the Valley wake up, and when will our best and brightest step forward and offer to run for office?" said county Republican Party Chairman Mark Munroe. "I realize an indictment is just a charge, and we are all innocent until proven guilty, but the growing list of indicted Democrats is a poison that is eating away at the Valley."