---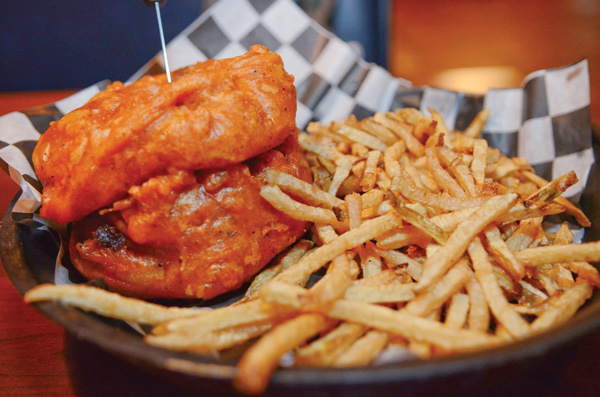 Photo
A deep fried burger with bacon and pepper jack cheese from The Smokin' Gun Saloon.
When You Go...
Where: The Smokin' Gun Saloon
Address: 10826 Market St North Lima, Ohio
44452
Phone:234-759-3435
Hours: Sun: 11 am - varies, Mon - Thurs: 11 am - 11 pm, Fri -Sat: 11 am - 2:30 am
Menu: 10 burgers ($7.25 - $8.50)
Website: thesmokingunsaloon.com
By Anthony M. Fuda
mvbrb@hotmail.com
It was a showdown. Our six-barreled appetites versus the Smokin' Gun's .44 caliber-spatula-wielding cooks.
We were going in hungry, hoping to lasso a couple perfectly made cows and then heading home satisfied, with cowboy music leading us out the door.
Owner Shannon Dunlevy said, "We have a western theme thus the name 'The Smokin' Gun Saloon'". The Smokin' Gun Saloon takes you back to the old West with a dash of the modern-era thrown in. There is a large bar which seats about 20 people, as well as a spacious seating area. There is also a dance floor where you boot, scoot and boogie when any number of local bands come to play.
We located a table that sat the six of us comfortably, so we could do our own hootin' and hollerin'.
The showdown was about to begin, and our waitress Cori McCullough told us a little about the burgers, and which one was our fiercest foe -- that being the Deep Fried Cheeseburger.
The menu has 10 half-pound burgers, all worthy adversaries: All American (American cheese, pickle, ketchup, mustard); Deep Fried Cheeseburger (They cook the burger, assemble it, then take the bun and all, dip it in batter and fry it to perfection); Chum - Lee (Feta, grilled onions); Black & Bleu (bleu cheese is cooked in to the meat); Western (pepper jack cheese, bacon, onion rings BBQ sauce); Smokin' Burger (coleslaw and French fries); Rodeo Burger (pepper jack cheese, jalapeños, onion rings); 3 Cheese (Swiss, Provolone, American - add bacon for 50 cents); Breakfast Burger (American Cheese, bacon, egg, hash browns); and the Mushroom and Swiss.
The burgers are sided with thin-cut fries, and come out displayed on a nicely toasted bun. The burgers are so juicy that if the buns weren't toasted this meal would have to be eaten with a fork.
On Tuesday nights, you can get any burger any way you want it for $6.75.
Shannon says, "I think the main reason our burgers are so good is that they are 100% fresh beef, never frozen. All of our burgers weigh 1/2 lb and are hand pressed every day. We add a small amount of salt and pepper, but really want the taste of the meat to shine through. All of our burgers are charbroiled and made to order."
The burgers arrived and well exceeded our expectations.
I went with the Chum-Lee and was marveled that the feta cheese did not overpower the taste of the burger. It really added to the nicely seasoned beef. Top it off with the grilled onions and this is a well-crafted, well-flavored burger.
Jim M chose the Deep Fried Burger, and said, "After perusing the Burger menu of the Smokin' Gun, and reading about the "Deep Fried Cheeseburger", I couldn't get past their own recommendation that said: "You gotta try this." I asked for the burger to be cooked medium, but was informed that the way this is cooked, it only comes well done. Being game to trying something outside the box, I went ahead & ordered the Deep Fried Cheeseburger with Bacon and Pepper jack Cheese. When the waitress returned with the burgers, I was in awe of the sheer size of this "Burger" and nice pile of Fair Fries. I immediately cut through this beast and noticed a huge juicy burger surrounded by a pillow of deep fried batter. Upon picking up this beast, the total weight of this burger and fried batter had to tip the scale of at least one pound! Biting into this I immediately got a taste of the nicely flavored burger and a Deep Fried batter reminiscent of a Funnel Cake. I thought I was at the local fair, where everyone loves the multitude of choices of deep fried anything!"
Spatman said, "The Tree Cheese Burger I ordered is a half pound Angus patty lightly seasoned, char-broiled and wrapped in bacon, swiss, american and cheddar cheese. Ordered well done it was crunchy but tender and juicy. Served on a slightly toasted bun and topped with grilled onions it is a hidden gem on the pathway to the ultimate burger. Served with fair fries it is a good bargain at dinner time. A 4 out of 5 on my wet-nap scale."
Eric went Western and said, "I went with the Rodeo Burger for my choice tonight. My burger was cooked to order and had a very palatable seasoning. I opted to add extra jalapeños and some signature hot sauce on the side, which definitely raised the temperature. In my experience, typically Rodeo Burgers claiming to have onion rings are actually just smothered in what I would at best call fried onion flakes. This burger on the other hand had just one full onion ring, but based on its size, one might have thought an entire onion was on top! I definitely can give this burger a high recommendation."
Chiz also had the Rodeo Burger, and his thoughts were, "The burger was cooked medium to medium-well, just how I like it. Great flavor with just the perfect amount of seasonings. The size was great, and I was extremely impressed with the large, buttered and toasted bun. The Smoking Gun Saloon gets an "A" in my book!!! I highly suggest you go out and try it for yourself! I also enjoyed the awesome atmosphere, and "Wild, Wild, West" theme! A must try!"
If you're heading South on Market Street in Boardman and have a hankering for some good 'ole grub, stop by The Smokin' Gun, strap on your feed bag and get one of these tasty half-pound burgers.
4 stars
Keep reading the Valley food section each Wednesday for the best food the Valley has to offer.
If you know of a burger that should be on our hit list, send the info to mvbrb@hotmail.com, or on our Facebook page BurgerGuyz