---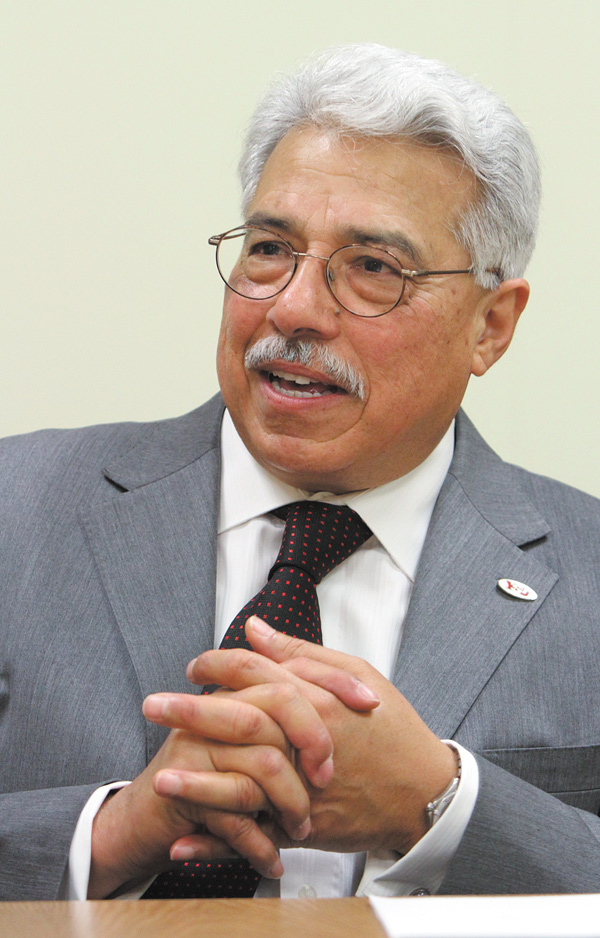 Photo
Ikram Khawaja, Youngstown State University's interim president, has been at the university since 1968. He's retiring June 30, and today is his last day in office before vacation.
SEE ALSO: YSU board approves Tressel contract, 2015 budget
By Denise Dick
YOUNGSTOWN
They say good things come in threes: Charlie's Angels, the Three Stooges, the original Star Wars trilogy.
One long-serving Youngstown State University official hopes it holds true for his retirement, too.
Interim President Ikram Khawaja's last day is today. He's retiring June 30, after 46 years at YSU, and his vacation begins Friday.
But he's retired twice before, once in 2002 and again in 2007, returning to fill in as interim dean of the College of Arts and Sciences in 2005 and as interim provost and vice president for academic affairs in 2007.
Each time he returned when asked because of his affection for the institution and the people who work there.
But when he applied for the job as an associate professor in the geology department in 1968, he never expected to stay throughout his career.
"I had never even heard of Youngstown," Khawaja said.
He grew up in Pakistan, earning his bachelor's and master's degrees from the University of Karachi before moving to the United States and earning a master's degree at Southern Illinois University and a doctorate from Indiana University.
Khawaja, 71, was completing his doctorate, working in the geology department at IU, when his adviser urged him to start looking for positions as the grant money was running out.
He ran an ad in Geo Times and the first response came from YSU, he said. He went for an interview with a panel of high-level administrators and was offered the job making $10,000 per year. He took it. It was a substantial increase from the roughly $3,000 annual salary he was making at IU.
Khawaja was engaged to his now-wife Sue, and he made a plan: He would finish his dissertation Aug. 10, the wedding was Aug. 17 in Jackson, Miss., and the couple would be in Youngstown in time for the start of fall classes.
He met those goals, but the couple's honeymoon had to wait until the following summer.
Khawaja planned to stay for a couple of years and move on. That didn't go as planned.
The couple moved into the Newport Glen Apartments near Mill Creek Park in Boardman before transitioning to a starter home off Glenwood Avenue. As their family grew from one to two daughters, they moved into a larger home. They never left.
"In the 46 years, we've moved within a 21/2 mile radius," Khawaja said. "We've been happy in the Boardman community and happy with the schools in Boardman."
His daughters are grown and have moved away. Noreen is an assistant professor of religious studies at Yale University and Shehla lives in West Chester, Pa., after working as a museum curator and is the stay-at-home mother of two daughters.
It doesn't seem like 46 years to him.
"That's a testimony to the fact that I've enjoyed my experience," Khawaja said. "I've been very happy."
Had his tenure been a stressful and difficult one, those years would have dragged on, he reasons.
His service is appreciated by past and present YSU colleagues.
"He knew the ins and outs of the university very thoroughly," said Dr. Sudershan Garg, YSU Board of Trustees chairman, from 2011 until this week.
"When he was brought back as interim provost and provost, he did a very good job trying to put the faculty in line and trying to recruit good people for the university. I think he's well-respected both from the faculty and from the administration as well. He probably has tried to retire three or four times, and he's been brought back because he knew the place and he's done a good job. As interim president, he's met with the trustees and he's given a very candid opinion of the state of the university to the board, and I think he's even filled in Jim Tressel about things."
Former YSU President Cynthia E. Anderson said the university was fortunate to have Khawaja in each position in which he served. He was there to turn to for his guidance, leadership and direction, she said.
"He and I used to have these long, philosophical discussions," Anderson said.
"I think oftentimes in higher ed we talk about a university's mission, what a university stands for, the belief of a university or what are a university's core values. In thinking about Dr. Khawaja, what has really made Ikram Khawaja great as a leader and as a person, he's definitely a person who has his own personal core values and belief system. Throughout any situation, all of those values are used in his decision making. Whether it's small or large, he always went back and drew from what he truly believes in. That's what really sets him apart."
She said Khawaja is a fair-minded person, and he gave the best of everything he had to give to YSU.
After working in the geological and environmental sciences department for several years, Khawaja got a call from Tod Hall, telling him that his application for department chairman would be supported.
He served in that role for 17 years and then worked for three years as the director of faculty relations. Khawaja then worked as interim dean of the College of Arts and Sciences, retiring in 2002.
He came out of retirement to fill the role again from 2005 to 2007 when he retired again.
He returned as interim provost and vice president for academic affairs in 2007 when Robert K. Herbert died in a drowning accident.
In 2008, former YSU President David Sweet then named Khawaja to the role permanently and Khawaja remained there until Randy J. Dunn's abrupt resignation from the YSU presidency in March to become president of Southern Illinois University, when Khawaja was named interim president.
Of all those positions, he only sought the first one. For the others, he was asked to apply.
"If you look at my CV [curriculum vitae], it looks terrible," Khawaja chuckles.
His immediate retirement plans include travel, but he doesn't plan a life of leisure.
"I'm not going to get a job, but I'll do some kind of volunteering," Khawaja said.
He and his wife will maintain a home in the Mahoning Valley, but he also plans to be involved in his native country.
During his last two retirement attempts, Khawaja worked at a new women's university in Pakistan, teaching in the environmental-science department. He donated his salary back to the university. The administration at that university has since changed.
He'll either get involved in the country's higher-education commission or through his family's charitable foundation which focuses on both education and social welfare efforts.
"I'll stay engaged," Khawaja. "I'm not going to just be fishing and golfing."