---
Saturday, February 1, 2014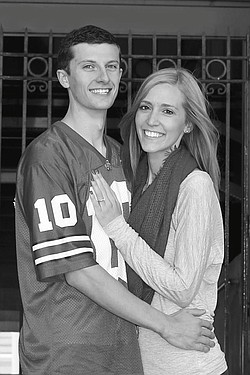 Photo
William Donohue and Lindsey Shirilla
Together with their parents, Lindsey Shirilla, formerly of Boardman, and William Donohue are announcing their engagement.
Her parents are Judy and Sam Rossi of Monaca, Pa., and the late Nick Shirilla of Struthers. His parents are Bill and Jerri Donohue of Brecksville, Ohio. The couple both live in Columbus.
They are planning a 1:30 p.m. Oct. 4 wedding at St. Charles Church in Boardman.
Invitations will be extended for a reception that will follow at the Maronite Center in Youngstown.
The bride-elect earned a bachelor's degree in allied health professions from Ohio State University, where she is studying for her doctorate in physical therapy.
Her fiancé earned a bachelor's degree in business administration from OSU. He is a retail manager at Second Sole in Gahanna, Ohio.