---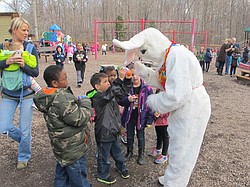 Photo
Neighbors | Tim Cleveland.Market Street Elementary student Ethan Pedraza held up the Easter eggs he found to show the Easter Bunny at Boardman Park.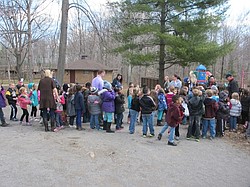 Photo
Neighbors | Tim Cleveland.Boardman kindergarten students from Market Street and Stadium Drive elementaries lined up before hunting for eggs at Boardman Park.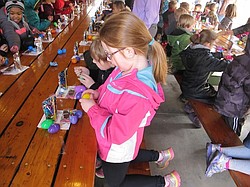 Photo
Neighbors | Tim Cleveland.Market Street Elementary kindergarten student Julia Forbes opened one of the Easter eggs she found at Boardman Park.
By TIM CLEVELAND
After being snowed out last year, the 64th annual Easter egg hunt, sponsored by the Boardman Kiwanis Club, at Boardman Park was back on for this year.
The event was offered April 9 with kindergarten students from all four Boardman elementary schools – Robinwood Lane, West, Stadium Drive and Market Street.
With 300 students participating in the egg hunt, the event was split into two groups, with Robinwood and West at 10 a.m. and Stadium and Market at noon.
The children were let loose in the park's Tot's Town playground with more than 1,400 eggs filled with Jolly Ranchers, Laffy Taffy and Reese's Cups, among other candies.
There were enough eggs for the students to claim four eggs each.
"A lot of great guys have had this before me and I've been in charge the last six years or so," said Easter egg hunt chairman George Basista. "The Key Clubs help. Normally we have South Range [Key Club], too, but they weren't able to make it up this time."
After hunting for the eggs, the children went to the park's pavilion to open their eggs, drink Kool-Aid Jammers and eat chocolate bunnies.
"We've done this for all 15 years I've been in Boardman," Robinwood Lane Elementary Principal Don Robinson said. "Boardman Kiwanis started it originally and still supports it; buys the eggs, works with me on the schedule. They offer this every year. Just fun for the kids."