---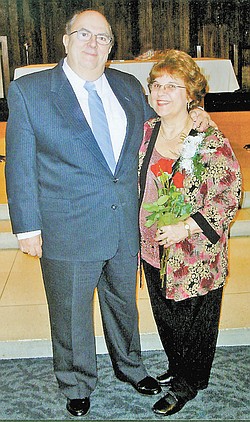 Photo
MR. AND MRS. RAYMOND NEMETH
STRUTHERS
Mr. and Mrs. Raymond Nemeth of Struthers celebrated their 50th wedding anniversary with a renewal of their vows Jan. 19 at Our Lady of the Holy Rosary Church in Lowellville and were honored afterward with a dinner at the church banquet center by their family.
The former Rosalie Pompeii married Mr. Nemeth on Jan. 19, 1963, at St. Nicholas Church.
Their children are Steven (Denise) Nemeth of Struthers; Julie (Doug) DiLoreto of Struthers; Nicole Nemeth of Tarpon Springs, Fla.; and Raymond (Deanna) Nemeth of Poland.
Their grandchildren are Ashley, Brett and Christian Nemeth; Joseph and Daniel DiLoreto; Marcus, Alicia and Alexis Nemeth; and Zachary and Ryan Nemeth. They also have a great-granddaughter, Zoe.
The couple are members of Our Lady of the Holy Rosary Church.
Mrs. Nemeth is a retired nurse and worked for Northside Hospital for 37 years.
Mr. Nemeth is a retired firefighter and served 28 years with the Struthers Fire Department. He is a U.S. Army veteran.