Allied strike spreads to Cleveland-area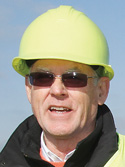 ---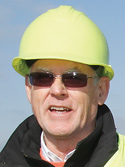 Photo
and Jamison Cocklin
YOUNGSTOWN
Teamsters Local 377, which represents 103 workers at Republic/ Allied Waste in Youngstown, has taken its strike to the Cleveland area, where it set up picket lines Monday.
Local 377 members traveled to Republic's Elyria facility. Nearly 200 workers there refused to cross picket lines and report for work, affecting trash collection in the region.
The sanitation drivers and mechanics in Elyria who are honoring the picket lines of their colleagues are members of Teamsters Local 20 in Toledo.
At the heart of the impasse is a dispute over the workers' contract. In October, they rejected Republic's proposal to extend it, and they have been without one since.
Republic calls the strike unlawful.
The union, however, has said the company is violating federal labor laws by changing working conditions without bargaining and refusing to provide timely information about the process.
"Republic has been bullying its workers by locking them out of their jobs without pay, withholding paychecks, and demanding contract concessions — even though the company makes hundreds of millions in profits each year," said Ken Hall, Teamsters International general secretary-treasurer.
The next negotiating session between Republic and Local 377 is set for Tuesday. The local has been quiet about the issue; instead, it appears to be letting the Teamsters International take the lead by handling inquiries on the strike.
In the meantime, Doug Dunn, general manger at Republic Services/Allied Waste in Youngstown, said the company is fully staffed and operating on a normal schedule after a hold-up in trash collection over the weekend.
Despite the Teamsters' strike, collections of garbage and recyclable materials by Allied Waste appear to be running close to schedule, an Allied Waste manager and the county's interim recycling director said Tuesday during a meeting of Mahoning County's solid waste policy committee.
"All the routes are being picked up. We worked Saturday and Easter Sunday," from 5 a.m. to 5 p.m., both days, said Mike Heher, manager of Republic Services' Carbon-Limestone Landfill in Poland Township, where a number of the union's 103 local members have been on strike since Thursday. Allied is a division of Republic.
"We have never closed. We've been open every day accepting refuse," Heher told the committee. With managers and nonunion employees having worked through the weekend to get the garbage collected, the landfill, which is normally closed Sundays, was open for waste disposal on Easter.
"If the garbage didn't get picked up, just leave it at the curb a little longer, and we'll get it," Heher said, adding that the wait for collection shouldn't be long.
"We have fielded some intermittent complaints, but I think that has more to do with them being new drivers and maybe not knowing the location, and less to do with the fact that they're missing areas altogether," said Lou Vega, interim county recycling director.
At drop-off recycling sites, "Some of the site [bin] configurations might be mismanaged a little bit," Vega said.
"To my knowledge, they have only missed one area of recycling" at curbside — a section of Austintown north of New Road and west of state Route 46, Vega said. "We are encouraging those residents to take the material to our drop off sites," for recycling, he said.
An office paper recycling program with about 100 participating businesses is stalled because it has a low priority, Vega said, adding that he has a contingency plan for his staff to collect the paper if the strike goes beyond Friday.
"At this point, I don't see a threat at all" to public health because collections have generally been performed within a reasonable time, said Patricia Sweeney, county health commissioner.
More like this from vindyarchives.com