Frustrated farmers descend on DC to rally for bill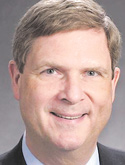 ---

Photo
YOUNGSTOWN
Time is running out for lawmakers to pass a comprehensive farm bill before the current one expires Sept. 30, leaving many Ohio farmers uncertain of how to deal with the adversity of this year's drought in the absence of a crucial bill intended to provide assistance even in good times.
With only five legislative days before Congress takes recess before the November elections, little has been done to address the issue in the House of Representatives, where members have refused floor time for two sweeping versions of the bill.
Today, 41 agricultural groups, including several from Ohio, will descend on Capitol Hill to voice their outrage over Congress' reluctance to take up the matter in a "Farm Bill Now" rally.
In June, the Senate approved a $500 billion version of the bill, eliminating direct subsidies to farmers and instead strengthening safety nets such as crop insurance.
When that version moved to the House in July, the Agriculture Committee made sweepings changes of their own, but the House membership failed to hear either version. Before Congress adjourned for a five-week recess, the House pushed through a $383 million package of loans and grants for a limited number of farmers.
Now, Democrats in both chambers are objecting to $16 billion in food-stamp cuts proposed by Republicans on the House Agriculture Committee.
But Republicans want even more cuts, and it appears that neither side will budge in a session that was expected to produce little results even as the government lacks a budget for the next fiscal year and a slew of government agencies face looming budget cuts.
"Overall, it's hard to see when this is going to end, this Congress has passed legislation at historically low levels," said Paul Sracic, chairman of the Political Science Department at Youngstown State University. "Now it appears that both sides are sort of on lockdown before the November elections."
A lockdown will do little to help Ohio's 74,700 farms, many of which rely on aspects of the bill to plan ahead for next year's crops. The bill provides federal aid for crop loss, conservation programs, insurance and myriad tools that assist farmers in a global industry that grows more competitive by the year.
"No one should ever believe there isn't enough time — you make time for your priorities," said U.S. Secretary of Agriculture Tom Vilsack in a telephone interview. "If this doesn't get done, we don't have disaster assistance, trade promotion stops and exports get impacted.
"I guarantee you the Canadians, Australians, Brazilians and Argentineans are anxious to see their main competitor stop competing," Vilsack added. "We need to get a bill through to work out the differences in the House and Senate so there's reassurance and certainty about what kind of programs are going to be out there."
Late Monday, the House Appropriations Committee unveiled yet another stopgap spending measure that would fund most federal activity through March 27, but no extension or provision was included for a new farm bill, except a measure of funding for food stamps, which are rolled into the legislation.
According to Vilsack and Yvonne Lesicko, senior director of legislative and regulatory affairs at the Ohio Farm Bureau, simply extending the farm bill for a year through a stopgap measure would do little for farmers.
Without the typical five-year extension, much of the bill's baseline funding would be reduced, creating little assurance for Ohio farmers already eligible for federal disaster relief after a spring and summer of severe heat and rainfall shortage expected to severely minimize the harvest.
As of Tuesday, representatives with several congressional offices, including the House Agriculture Committee and the House Majority Leader's office, said there were no plans to debate the bill before Congress takes recess.
Vilsack said the farm bill was always a bipartisan effort in the past, but a stall in extending the bill could mean economic issues for much of the Midwest.
"We had a board meeting last week, and there's a great sense of frustration among our members," said David White, executive director of the Ohio Livestock Coalition. "They want something to happen, and they want it done in 2012."
More like this from vindyarchives.com