---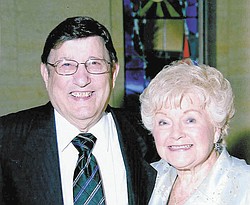 Photo
Mr. and Mrs. Carl Pedaline
YOUNGSTOWN
Carl and Madelyn Pedaline of Youngstown will observe their 68th wedding anniversary at a party celebrating Mr. Pedaline's 90th birthday later in March.
The former Madelyn Hubert and Mr. Pedaline were married March 11, 1944, at Immaculate Conception Church in Durham, N.C.
The couple are the parents of three children, Janet (Mike) Murray of Canfield; Patti (Steve) Gondol of North Jackson: and Joe (Sue Murphy) Pedaline of Youngstown. There are seven grandchildren and five great-grandchildren in the family.
Mrs. Pedaline retired in 1988 as a teller at Dollar Bank in Liberty. She is a member of East Garden Club and the Silver Dollar Gang.
Mr. Pedaline retired in 2001 as the heating inspector with the City of Youngstown. He served with the U.S. Army during World War II. He is a member of Staff Sgt. Arthur McGinnis VFW Post 8841 and the Knights of Columbus Father Gallagher Council 3144.
The couple are members of St. Christine Church.