---
Sunday, February 26, 2012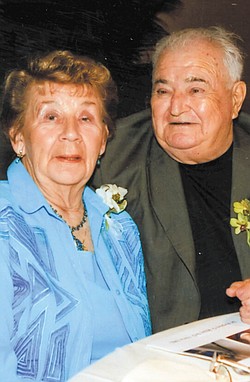 Photo
Mr. and Mrs. Angelo Sebastiano
DAVENPORT, FLA.
Angelo and Dolores Sebastiano of Davenport, Fla., formerly of Liberty, were honored for the 60th anniversary of their marriage at a surprise party Jan. 28 at Maplecrest Recreational Center in Struthers.
The couple's children hosted the festivities. They are Patty Hanson of Ellwood City, Pa.; Dr. Anthony Sebastiano of Boca Raton, Fla.; and Terri Sebastiano of Youngstown. The Sebastiano family also has nine grandchildren and five great-grandchildren.
Mr. and Mrs. Sebastiano are members of St. Vincent de Paul Church, and they both volunteer for the Make A Wish Foundation at Disney World in Orlando, Fla. They were married Jan. 24, 1952, at Our Lady of Mount Carmel Church in Youngstown.
Mrs. Sebastiano, who is the former Dolores Moskosky, retired in 1995 as an office nurse for Dr. Anthony Sebastiano in Niles.
Mr. Sebastiano retired in 1986 as an educator with the Youngstown Board of Education in Youngstown.