Storm rips off roofs, downs trees in Girard; funnel clouds spotted
Storm rips off roofs, downs trees in Girard; funnel clouds spotted
Staff report
Girard
Girard Storm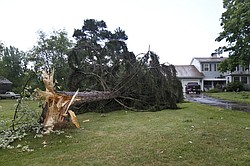 Gallery
Storm Damages in Girard, Ohio on August 5, 2012.
A severe storm this afternoon caused damage in the north end of Girard this afternoon, Girard Fire Department reported.
The storm may have been a tornado, but that has not been confirmed, said the National Weather Service in Cleveland.
Storm reports began coming into the Weather Service at 2:38 p.m.
Meteorologist Jim Kosarik said there were numerous reports of funnel clouds, but the Weather Service will not confirm a touch-down until it can visit the scene and inspect the damage.
Kosarik said the Weather Service tracked the storm from Girard through Liberty and Hubbard into Pennsylvania, where it was weakening,
Girard Fire Department Capt. Tim O'Brien said trees and wires were down and pieces of roofs were ripped off buildings.
O'Brien said at 4:15 p.m. that the city was still trying to coordinate a cleanup among Ohio Edison, the street department, police and fire departments.
He said certain areas of the city may be without power.
Trumbull County 911 said trees and wires also were down in Liberty Township. Hubbard was apparently spared damage, according to a dispatcher for the city.
See The Vindicator on Monday and Vindy.com for further updates.