U.S. & WORLD NEWS DIGEST | Teen injured in Ind. school shooting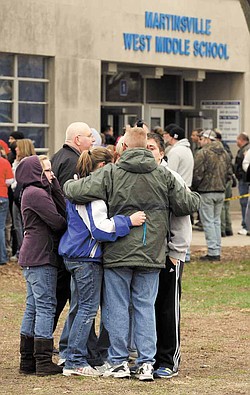 ASSOCIATED PRESS

Photo
Parents and students gather after students were released following an early morning shooting at West Middle School in Martinsville, Ind., Friday, March 25, 2011. A gunman opened fire at the middle school before classes began Friday, shooting a student in the stomach, police said. A 15-year-old classmate who had been suspended was taken into custody.
Teen injured in Ind. school shooting
MARTINSVILLE, Ind.
Dustin Tatum was leaving his middle-school cafeteria Friday when he heard a loud bang, then chaos ensued as a teacher rushed him and several fellow students into a classroom, locked the door, turned off the lights and ordered everyone to hit the floor.
Only later did Tatum learn his close friend, a 15-year-old classmate, was shot in the stomach and that police were identifying the alleged shooter as a former student expelled from the central Indiana school just days earlier.
"It was a nightmare hearing my friend just got shot and he's being lifelined to the hospital," said Tatum, 14.
The lone victim, Chance Jackson, was listed in critical but stable condition Friday evening at Methodist Hospital in Indianapolis, where he was taken by helicopter.
Wisconsin union law published
MADISON, Wis.
Wisconsin officials couldn't agree Friday about whether an explosive law taking away nearly all public-worker collective-bargaining rights was about to take effect after a nonpartisan legislative bureau published it despite a court order blocking implementation.
The head of the Legislative Reference Bureau that made the move, as well as a nonpartisan attorney for the Legislature, said the action was merely procedural. But Republican legislative leaders, who encouraged the bureau's action, insisted it meant the law would take effect today.
Police: Ga. suspect releases 4 hostages
ATHENS, Ga.
The man suspected in the shooting death of a Georgia police officer released four of the eight hostages who authorities said he was holding at an Athens apartment Friday evening, and negotiators were working toward a peaceful surrender.
Athens Police Capt. Clarence Holeman said 33-year-old Jamie Hood released the hostages around 9 p.m. Friday night. The police captain said Hood knew the hostages, who police said were not harmed, but added that the relationship is uncertain.
Jesuits settle abuse claims
SEATTLE
In one of the largest settlements in the Catholic church's sweeping sex-abuse scandal, an order of priests agreed Friday to pay $166.1 million to hundreds of Native Americans and Alaska Natives who were abused at the order's schools around the Pacific Northwest.
The Jesuit order, called the Oregon Province of the Society of Jesus, has been accused of using its schools in remote villages and on reservations as dumping grounds for problem priests.
Quake in Myanmar kills more than 70
YANGON, Myanmar
A powerful earthquake that toppled homes in northeastern Myanmar has killed more than 70 people, and there were fears Friday the toll would mount as conditions in more remote areas became known.
The Thursday night quake, measured at magnitude 6.8 by the U.S. Geological Survey, was centered just north of Tachileik town in Shan State near the Thai border.
Associated Press