---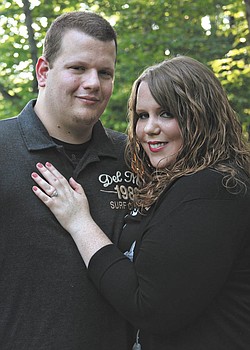 Photo
Albert Buttry and Kayla Mackos
AUSTINTOWN
Kathleen Mackos of Austintown is announcing the engagement and wedding plans of her daughter, Kayla Mackos, to Albert Buttry, both of Austintown.
The prospective groom is the son of Albert Buttry Jr. of Austintown and the late Terri Buttry. The bride-elect is also the daughter of the late Stephen Mackos.
Invitations will be extended for the 2 p.m. ceremony, which will be Sept. 17 at Immaculate Heart of Mary Church, and for the reception at Avion on the Water in Canfield.
Miss Mackos received an associate degree in nursing from Mercy College and a bachelor's degree in nursing from Waynesburg University, and is pursuing a master's degree in nursing at Kent State University. She is a registered nurse at St. Elizabeth Health Center in Youngstown.
Mr. Buttry is pursing an associate degree as a physical therapy assistant at Kent State University East Liverpool Campus.