Morrison wins Holy Family spelling bee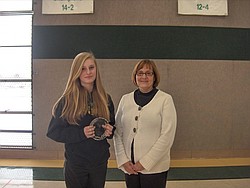 Photo
Neighbors | Submitted.Holy Family School Spelling Bee Champion Olivia Morrison (left) stood with Holy Family School Principal Christine Kijowski after winning the school's spelling bee Jan. 21.
Nine homeroom spelling champions representing grades four through eight battled it out at the Holy Family School's annual Spelling Bee Jan. 21.
Seventh-grader Olivia Morrison, from Jean Wargo's class, became school champion when she correctly spelled "courteous" and then also nailed the winning word — "brilliant."
Morrison is the daughter of Dean and Christine Morrison of New Springfield. When asked who she would like to thank upon winning the bee, Morrison stated that in addition to her parents and teacher, she wanted to recognize her sister, Elizabeth.
"My sister, Elizabeth, won Holy Family School's spelling bee 15 years ago, so I knew I had to do it, too."
Morrison will represent Holy Family School in The Vindicator's Regional Spelling Bee at Youngstown State University this March.
Eighth-grader Francesca Strollois was Holy Family School's spelling bee runner-up. Homeroom spelling champions included fourth-graders Matthew Rossi, Chloe Noel Housteau; fifth-grader Christopher Masternick; sixth-graders Tessa Snider, Alex Wollet; seventh-graders Olivia Morrison, Jon-Michael Koutsourais; and eighth-graders Taylor Tofil and Francesca Strollo.