Kobe wins fourth MVP in West's victory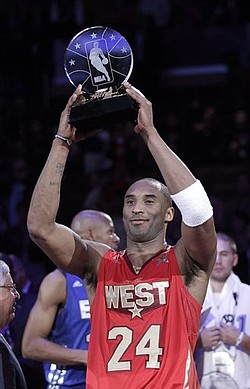 AP

Photo
West's Kobe Bryant holds up the MVP trophy after the NBA basketball All-Star Game in Los Angeles, Sunday, Feb. 20, 2011. The West won 148-143.
Associated Press
LOS ANGELES
Kobe Bryant won his record-tying fourth All-Star game MVP award to the delight of his hometown fans, scoring 37 points and propelling the West to a 148-143 victory over the East in the NBA's midseason showcase on Sunday night.
The Los Angeles Lakers' veteran guard put on another show among stars at the 60th All-Star game, also grabbing 14 rebounds and overcoming LeBron James' triple-double for the East.
Clearly pushing for another trophy against an East roster stacked with rival Celtics and Heat, Bryant matched Bob Pettit's NBA record with his fourth MVP award in just 10 years.
"Being at home, I wanted to come out and play hard, put on a good show," the 32-year-old Bryant said. "This will be my last All-Star game in front of these home fans, so it feels good to be here."
Although the protracted courtship of West starter Carmelo Anthony dominated much of the All-Star weekend discussion, Kobe gave the Los Angeles crowd another memory to go with Clippers rookie Blake Griffin's dunk contest win on Saturday.
James had 29 points, 12 rebounds and 10 assists for the East, but Miami teammate Dwyane Wade limped off in the third quarter. Wade finished with 14 points.
Bryant didn't score in the final 6:48, falling short of Wilt Chamberlain's All-Star game record of 42 points in 1962.
Bryant won the All-Star MVP trophy in 2002 and 2007 before sharing it with Shaquille O'Neal in 2009. Pettit won four MVP awards with the St. Louis Hawks from 1956-62.
NBA scoring champion Kevin Durant had 34 points for the West, and New York's Amare Stoudemire had 29 for the East.
The West maintained a steady lead against an East team with a combined seven players from Boston and Miami, arguably the top contenders to replace the back-to-back champion Lakers.
Back-to-back baskets by Amare Stoudemire and James trimmed the margin to 142-140 in the final moments. Bryant then missed a jumper, but Lakers teammate Pau Gasol tipped home the rebound.
After two free throws by Chris Paul, Boston's Ray Allen hit a 3-pointer with 9.9 seconds left, but Durant finished it with two free throws.
Boston placed a record-tying four players on the squad, led by 14-time All-Star Kevin Garnett, while the Heat sent league MVP James alongside Bosh and Wade, last season's All-Star MVP in the East's two-point win at Cowboys Stadium.