---
Sunday, December 25, 2011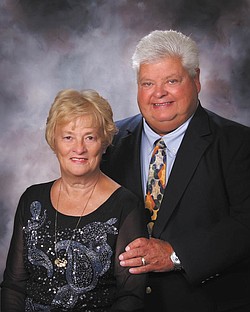 Photo
Mr. and Mrs. William Reedy Jr.
BOARDMAN
William Jr. and Sally Reedy of Boardman marked their 50th wedding anniversary Sept. 2 while vacationing in Las Vegas with their son and daughter-in-law, Trea and Kristen Reedy of Dove Canyon, Calif., who were celebrating their 20th anniversary.
The family also includes the couple's daughter and son-in-law, Drs. Kelly and Colin Moorhead of Copley, Ohio, and their five grandchildren, Alyx and Liam Reedy and Sarah, Colin and Ryen Moorhead.
The couple also were guests of their children when the family gathered for Thanksgiving in Maui, Hawaii.
Mr. Reedy and the former Sally Billings were married Sept. 2, 1961, at John Knox Presbyterian Church in Youngstown.
Mrs. Reedy, a graduate of Youngstown Hospital School of Nursing, is a real estate agent for Northwood Realty in Youngstown. She also works part time as a registered nurse in the medical office of her daughter and son-in-law in Akron. She is a member of Angels of Easter Seals, Johnny Appleseed Garden Club, Tippecanoe Niners, Royale Flames and several card clubs. She is past president of Robinwood and Glenwood schools PTAs and Boardman Council and was active in Boardman Band Parents.
Mr. Reedy graduated from Youngstown State University and retired from IBM after 30 years of service. He is employed as the office manager in the medical practice of his daughter and son-in-law in Akron. He is a member of Boardman Rotary, Sharon University Club, Sharon Social Fishing Club, Tippecanoe Country Club and Cambium.
The couple are members of Westminster Presbyterian Church in Boardman, where Mrs. Reedy is an elder and Mr. Reedy sings in the choir.