---
Sunday, December 25, 2011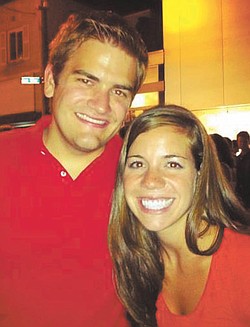 Photo
Andrew Miller and Meghan Linnelli
CANFIELD
Andrea and Greg Linnelli of Canfield are announcing the engagement and coming wedding of their daughter, Meghan Linnelli of Pittsburgh, to Andrew Miller, also of Pittsburgh.
Parents of the prospective groom are Leann and Dan Miller of Canonsburg, Pa.
The couple have planned an Aug. 8, 2012, ceremony at St. Scholastica Church in Pittsburgh. A reception will take place at the Rivers Club, also in Pittsburgh. Invitations will be issued for both events.
Miss Linnelli graduated from the University of Notre Dame with a degree in psychology. She is a kindergarten through fourth-grade science teacher at St. Bede School in Pittsburgh.
Mr. Miller is a graduate of Pennsylvania State University with a degree in accounting and also is a certified public accountant. He is a senior internal auditor at Mylan in Canonsburg.