---
Thursday, October 14, 2010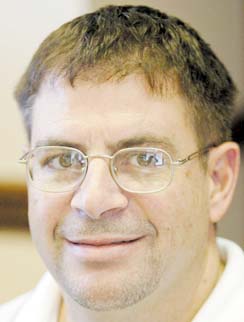 Photo
YOUNGSTOWN
Anthony Vivo says he enjoys his job as Mahoning County clerk of courts and has a good work ethic, but illness has limited his ability to go to work recently.
"I've been a hands-on clerk my entire career there," said Vivo, 52, who was first elected clerk of courts in 1994 and had worked in other jobs in that office since the 1970s.
Vivo called The Vindicator on Wednesday in response to what he said were reports on a Cleveland radio show that he had been away from the clerk's office for a long time but continued to do weekly radio sports-talk shows on Clear Channel stations in Youngstown.
Having played softball, golf and basketball three years ago, Vivo recalled he had trouble getting out of bed in the morning and was having flulike symptoms on a regular basis in 2009.
At the end of March of this year, Vivo said he woke up on a Saturday morning with extremely swollen legs and couldn't get his shoes on. His wife drove him to St. Elizabeth Health Center in Boardman that day, he recalled.
Doctors there told him he had multiple blood clots in his legs, hip and back and weighed more than 300 pounds because his body was filled with water and blood clots, Vivo said.
After a week at St. Elizabeth in Boardman, he spent a week at the Cleveland Clinic before returning home. Three days later, he became sick again, and St. Elizabeth's doctors put him on the blood-clot- preventing drug, Coumadin.
Because of his illness, he then was off his job in the clerk's office for four months from April through July.
"I still have blood clots in my legs," he said. "I still don't have the ability to walk long distances."
Vivo said he now works at the county courthouse during evenings and weekends, when he is able to park closer to the courthouse than during weekday business hours.
He also works in the Mahoning County Area Court in Canfield for five or six hours on Thursdays because it has convenient barrier-free access and because court is not in session there that day.
Vivo said he considered retiring on disability in April. "However," he added, "I'm a lot better now than I was in August." He now lifts weights, takes short walks and does yard work on a limited basis.
Vivo said he is looking forward to moving his auto-title department from the Southside Annex on Market Street to Oakhill Renaissance Place early next year and running for re-election as clerk of courts in 2012 if his health permits it.
Under the on-air name Champ Summers, Vivo said he tapes a sports show with Denny Liebert at Clear Channel studios in Boardman on Fridays during football season, where he has to walk only 30 yards from his car to the studio.
On Sundays, he goes there to do the Sports Wrap show live and year-round with Jim Evans. On some occasions, he said his blood clots have forced him to participate by telephone in Sports Wrap while lying in bed.
Vivo, who has a bachelor's degree in broadcasting from Ohio University, said his radio work is strictly an unpaid hobby. "The clots have not affected my mind or my ability to talk," he said.