---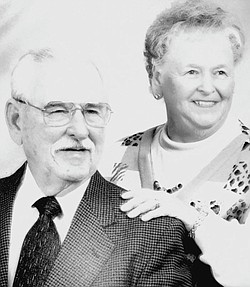 Photo
Mr. and Mrs. Godfrey J. Perry
AUSTINTOWN
Mr. and Mrs. Godfrey James Perry of Austintown celebrated their 60th wedding anniversary during a family dinner May 15 at the Fifth Season Restaurant.
Hosts for the event were their children, Joyce (Bill) Mistovich of Largo, Fla.; Cynthia Packo of Austintown; and Rosemary (Charles) Bowmaster of Westerville. Their family includes eight grandchildren, Melissa, Julie, Jimmy and Stephanie Mistovich; Amber (Greg) Smith; Sean Packo; and Abigail and Christopher Bowmaster.
The former Rosemary Kane and Mr. Perry were married May 25, 1950, at St. Dominic Church in Youngstown.
Mrs. Perry was a secretary at St. Joseph Church.
Mr. Perry was an operating engineer with Local 66 for more than 50 years, prior to retiring in 1993 from Poling and Bacon Co. in North Lima.