---
Tuesday, February 23, 2010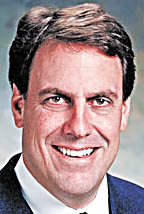 Photo
GM North America President Mark Reuss
By Don Shilling
Expectations are growing that General Motors is adding a third shift at its Lordstown complex, but perhaps there will be more to an announcement today.
Some are wondering if Mark Reuss, president of GM North America, will announce that the Chevrolet Orlando will be made in Lordstown in addition to the Chevrolet Cruze, which is to be launched this summer.
WardsAuto.com reported that its sources indicate that today's announcement will be product-related because of Reuss' appearance.
The article notes that the Orlando, a new crossover vehicle, is to be based on the same underbody platform as the Cruze, and GM hasn't said where the new vehicle will be produced.
Eric Mayne, an editor for the online publication of Ward's Automotive, said his staff doesn't have any inside information on the Orlando's coming to Lordstown, but he added that "it's logical that it would go somewhere where they are building a sister car."
Shorty Navarro, who owns the Stadium GM Superstore in Salem as well as other dealerships in Boardman, said his "gut feeling" is that Reuss will announce a third shift.
Workers have been speculating about a third shift since word of Reuss' visit leaked out last week. Union leaders have been saying for some time that they expect the Cruze to sell well enough that more workers will be needed eventually.
Navarro added, however, that rumors have been swirling in dealer circles about the Orlando's coming to Lordstown. Many people were talking about that possibility at a national dealers conference at the end of last year, he said.
Greg Greenwood, owner of Chevrolet dealerships in Austintown and Hubbard, said he's heard that the management and union at Lordstown have been working hard to persuade GM that their plant is the best home for the Orlando.
GM has been keeping the Orlando's manufacturing site under wraps since it announced in 2009 that it would bring the vehicle to showrooms in 2011.
Tom Mock, a spokesman at the Lordstown complex, acknowledged that rumors have been circulating for a long time that the vehicle would be made locally but said he couldn't comment on them. He also declined to comment on Reuss' announcement.
Mike Wall, an analyst for CSM Worldwide in Farmington Hills, Mich., said his company's forecast calls for the Orlando to be made in Orion Township, Mich. That plant is idle now after GM stopped production of the Pontiac G6, but GM will begin making a new Chevrolet subcompact model there next year.
Wall said, however, that the visit by Reuss indicates that a major announcement is coming.
"Bringing Reuss down there is big time," he added.
Also attending the announcement will be Gov. Ted Strickland and U.S. Rep. Tim Ryan of Niles, D-17th.
Wall said adding a third shift at Lordstown would not surprise him, but he wondered if GM was ready to make that commitment before sales of the Cruze even start.
Reuss has said in the past that he wants plants to run at full capacity so they can be more efficient, and he wants plants to be flexible so they can produce multiple models, Wall said.
John Donahoe, Lordstown complex manager, said last year that up to seven models could now be built there after renovations to prepare for the Cruze. GM spent $351 million to add 800 robots that would create this flexibility.
In addition to rumors about Reuss' announcement, there also is speculation as to how it will be made.
Greenwood said he has heard that Reuss will drive from Detroit in a Cruze. Executives have been driving them as part of GM's road testing of early models that have been built in Lordstown, he said.
Reuss is to visit Greenwood's Austintown dealership before the announcement. With him will be Diana Tremblay, vice president of manufacturing and labor.
shilling@vindy.com