---
Sunday, December 19, 2010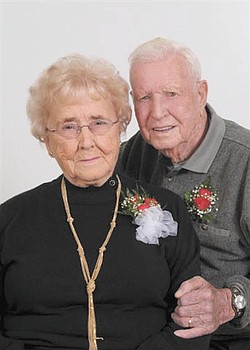 Photo
Mr. and Mrs. Raymond Penny
AUSTINTOWN
Mr. and Mrs. Raymond Penny of Austintown celebrated their 60th wedding anniversary Dec. 8.
In their honor, a reception for family and friends took place at Dino's Italian Restaurant in North Jackson. Arrangements were made by the couple's children and grandchildren.
Their children are Ray Jr. and Michelle Penny of Austintown, Joe and Bonny McHenry of Austintown, and Patty Kurth of Ellsworth. Their six grandchildren, all of whom attended, are Raymond and Alexandra Penny, Joe and Meredith McHenry, and Katie and Kristen Kurth.
The former Mary Kimmel and Mr. Penny were married Dec. 8, 1950, at the Chapel of Friendly Bells in Youngstown. Their original wedding date of Dec. 1 was postponed because of the "big snow of 1950."
A veteran of World War II, Mr. Penny was an operating engineer for 31 years and a member of Operating Engineers Local 66. He retired in 1989 from his supervisory position with the Mahoning County Engineer's Office and went on to work at the Canfield Fairgrounds.
Mrs. Penny worked as a secretary for Maria Fok, M.D., and Thomas Fok & Associates Inc. for a combined 30 years.
The Pennys are members of Smith Corners United Methodist Church.