---
Sunday, December 12, 2010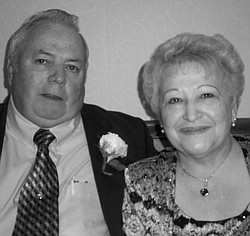 Photo
HUBBARD
Mr. and Mrs. Lee O'Hara of Hubbard renewed their marriage vows during a Mass on Nov. 20 at St. Patrick Church in the presence of the Rev. Timothy O'Neill.
Afterward they were honored at a surprise 50th anniversary party at St. Mark's Hall in Liberty.
Hosts for the celebration were the couple's children and their spouses Maureen Fakner, Patty and Tony Ball, and Lee and Soula O'Hara, all of Hubbard, and Donna and Ken Onderko of Hamilton, Ohio. There are nine grandchildren and three great-grandchildren in the family.
Mr. O'Hara and the former Gerry Perline were united in marriage on Nov. 19, 1960, at Immaculate Conception Church in Youngstown.
Mrs. O'Hara was a secretary with Victor Buck Insurance prior to retiring in 2003, and Mr. O'Hara retired in 2007 as a group leader with Lighting Products. The couple are members of St. Patrick Church.