---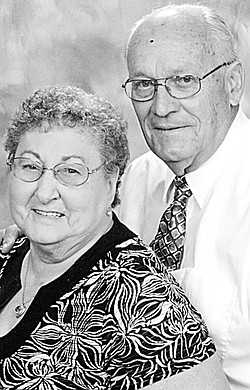 Photo
Mr. and Mrs. Donald Barnhart
STRUTHERS — Mr. and Mrs. Donald Barnhart, 571 Como St., will be honored by family and friends as they celebrate their 60th wedding anniversary during a dinner party on Nov. 7 at West Glen Italian Eatery.
Hosts for the 5 p.m. event are the couple's children, Don (Sue) Barnhart of San Angelo, Texas; Larry (Luigina) Barnhart of Bradenton, Fla.; Terry (Earl) Stephenson of Youngstown; Cathy Garlock of Lillian, Ala.; Scott (Carrie) Barnhart of Burke, Va.; and Donna Barnhart of New Middletown.
Rounding out the family circle are 14 grandchildren and 11 great-grandchildren.
The former Marilyn C. Hassey and Mr. Barnhart were united in marriage on Nov. 5, 1949, at Christ Lutheran Church, where they are members.
Mrs. Barnhart, a homemaker, is past president of Struthers PTA.
Mr. Barnhart, who is known as Barny, retired in 1995 after 50 years in the service and sales departments at Donnell Ford in Boardman.