---
Wednesday, January 7, 2009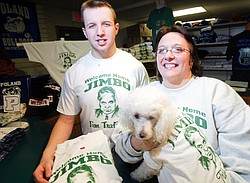 Photo
Sherry Trolio-DiVito, owner of Trolio Tshirts in Poland her grandson Jerry Beeson, an employee at the shop, and their dog Noodles sport Welcome Home Jimbo shirts they are selling.
Shirt sales reflect Jimbo supporters to a tee
The shop also has hoodies bearing the likeness of the imprisoned ex-congressman.
STAFF REPORT
POLAND — A shop in James A. Traficant Jr.'s hometown is the first to celebrate the ex-congressman's imminent (maybe) release from federal prison with "Welcome Home Jimbo" T-shirts and sweat shirts.
"We did a couple of dozen at first," said Tony Trolio, standing in front of a Traficant shirt display Tuesday afternoon at Trolio's Original T-Shirts, 35 W. McKinley Way. "We've sold more than 100 since Monday."
An ad for the keepsake shirts appeared over the weekend in The Vindicator.
Arrangements were made last month to have Traficant, 67, of Poland, report to Community Corrections Association, a halfway facility on Market Street in Youngstown, on March 9. The convicted felon's eight-year federal prison sentence expires Sept. 2, and then he'll serve three years' supervised release.
The Federal Bureau of Prisons typically sends inmates to halfway facilities up to six months before their scheduled prison release date to allow them to transition back into society and reconnect with family.
The prisons bureau last week denied Traficant's request for another halfway facility, which leaves him with two options — come to CCA in March or stay in prison until September, Richard J. Billak, CCA chief executive officer, has said. He expects to hear sometime this month what Traficant intends to do.
Trolio's daughter, Sherry Trolio-DiVito (wearing a Traficant sweat shirt), said a lot of orders are coming in by phone. Her son, Jerry Beeson, joked that he'll wear his Traficant T-shirt every day.
Depending on size and color, T-shirts sell for $10 to $15; sweat shirts are $15-$25. Hoodies are available, too, Trolio-DiVito said.
"He'd come in for shirts and to visit," Trolio said of Traficant, a longtime friend. "He used to help me coach little Bulldogs football, probably around 1972."
The T-shirt shop typically sells Poland Bulldog jackets and shirts, with a smattering of other teams represented, but cleared out counter space for Traficant clothing.
When asked what Traficant would think of the shirts, Trolio said: "He'll take it in stride; he's easy going. I'll save one for him."
Trolio said he had a friend design the shirts, using a likeness of Traficant found on old campaign literature.
"He's been a friend. I don't condone what he did, but wanted to show support," Trolio said. "Most people support him. I think if he ran again he'd get elected."
Trolio said Traficant did a lot for the area when he was in Congress, such as funding for the Chevrolet Centre and two federal courthouses.
Traficant is incarcerated at the Federal Medical Center in Rochester, Minn. In July 2002, he received an eight-year prison sentence after being convicted of racketeering, bribery, obstruction of justice and tax evasion. The House, using the trial transcript, expelled him.