GM plans to scale back sales incentives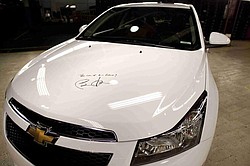 Photo
The Vindicator/Geoffrey Hauschild A Chevrolet Cruze signed by President Obama at the Lordstown Auto Plant on Tuesday morning. 9.15.2009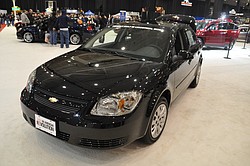 Photo
Chevrolet Cobalt at the 2009 Cleveland Auto Show
By Don Shilling
GM wants to get away from being the industry's incentives leader, an official said.
Don't expect lots of high incentives during the final days of the Chevrolet Cobalt.
Susan Docherty, vice president of sales, service and marketing for General Motors, said on a conference call with reporters Tuesday that the automaker needs to scale back its incentives, and she used the Cobalt as an example.
She said GM won't "flood the market with lots of Cobalts" ahead of the launch of the Chevrolet Cruze next year.
"We don't want to get into a situation where we're jamming cars in the marketplace just to buy share. That's bad behavior," she said.
In the past, GM has upped incentives on slow-selling models to entice customers, she said.
"I'm not proud of the fact that we've been the incentives leader," Docherty said.
Mark Reuss, president of GM North America, said during the call the Cruze and other new vehicles that will be launched must achieve new levels of customer satisfaction to attract buyers.
"We need to focus on being the best. Period. The words 'competent' or 'good enough' are banned from our vocabulary," he said.
Docherty said that GM will keep its plants flexible so that it can respond to customer demand.
"When something is hot, we need to be able to put our foot on the gas like we did by adding a third shift to meet demand for the Chevrolet Equinox and GMC Terrain," she said.
The additional shift was added in October to a Canadian plant.
Union officials at GM's Lordstown complex, which produces the Cobalt, have said they hope the Cruze will sell so well that GM will add a third shift there as well. The Cruze is to be launched from the complex during the third quarter of next year.
Other vehicles also could be added to Lordstown. Complex officials have said that part of a $350 million renovation this year included new equipment that is flexible enough to produce multiple vehicles on the same assembly line.
Docherty said some people have questioned whether GM can build market share as it is jettisoning its Pontiac, Saturn, Hummer and Saab brands. GM has emerged from a brief stay in bankruptcy with these lines: Chevrolet, Buick, Cadillac and GMC.
Docherty said she thinks GM can succeed with its remaining brands if it is building vehicles that people want. As an example, she said sales for GM's recently launched crossover vehicles posted November sales that were up 140 percent over the models they replaced.
Reuss and Docherty spoke to the media after being named to their posts Friday by Ed Whitacre, the GM chairman who also recently took over as chief executive. Reuss briefly was vice president of engineering after leading GM's Holden operations in Australia in 2008.
shilling@vindy.com