---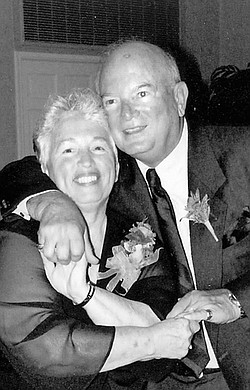 Photo
Mr. and Mrs. Raymond Procick
YOUNGSTOWN — Mr. and Mrs. Raymond Procick, 3231 Meredyth Lane, celebrated their 50th anniversary by renewing their marriage vow during a 4 p.m. Mass on Aug. 1 at St. Anthony Church, where they are members.
Monsignor John H. DeMarinis and Monsignor Martin Susko presided at the ceremony, where the couple received a papal blessing, a gift from their grandchildren.
Afterward a reception in the church hall was hosted by their children and their spouses, Renee and Jim Williams and Annette and John Armeni, all of Youngstown, and Lisa and Joe Diana of Cincinnati; and their grandchildren, Jimmy (Stephanie) Williams, Jessica Rae Williams; Johnny, Matthew and Michael Armeni; and Dominic and Elizabeth Rae Diana.
On Aug. 1, 1959, Mr. Procick and the former Dorothy Ferraro were united in marriage at St. Anne Church in Brier Hill, Youngstown.
Mrs. Procick worked at St. Anthony School as a secretary for 30 years. When the school closed she became a lunchroom supervisor at St. Brendan School, where she worked for 10 years before retiring in 2005. She is a member of the Altar and Rosary Society and of St. Brendan Senior Citizens.
Mr. Procick retired in 1997 from maintenance/central kitchen with Youngstown Board of Education. He belongs to Holy Name Golf League.