Jurors begin deciding fate of Michael Davis today
Michael Davis Verdict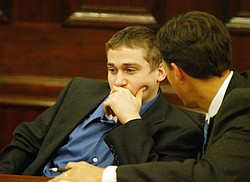 Gallery
Michael Davis verdict October 14, 2008
YOUNGSTOWN — Life or death?
That's the question jurors are pondering today in Mahoning County Common Pleas Court.
Should 18-year-old Michael A. Davis die by lethal injection for using fire to kill six people? The panel can also vote for life without parole; 30 years to life; or 25 years to life on each of the six murders.
Jurors who convicted Davis last week of aggravated murder and aggravated arson were back in court this morning for the penalty phase.
The panel, after hearing from witnesses and considering evidence, would begin deliberations.
Judge R. Scott Krichbaum told the jury to come prepared to be sequestered, should the penalty phase spill over to Friday.
Davis killed six members of the Crawford family at their East Side home on Jan. 23. He confessed and has been in custody since that day.
Atty. Ron Yarwood, one of Davis' two defense lawyers, said in his opening statement today that his client has been neglected his entire life and is cognitively impaired. "He's slow," Yarwood said.
The attorney said Davis never had a father in his life, struggled in school, was abused, and had an IQ that never got above 80, which he called borderline retardation.
Davis' mother, Ann Davis, who will be 36 on Friday, talked about being a young mother and how her son Michael was abused by her brother.
"You want Michael to live do you not?" Atty. James S. Gentile, the second defense lawyer asked.
Ann Davis, wiping tears from eyes and raising her voice, said, emphatically, "Yes!"